Bird Guide Training Program
In 2007 the SJV and Pronatura Noroeste received funds from the Neotropical Migratory Bird Conservation Act and the U.S. Forest Service International Program to develop a program and train residents of communities in or near important conservation sites to be bird guides. The idea was to provide incentives for conservation as well as a way for residents of these areas to supplement their incomes.
There are five levels of certification in the SJV Bird Guide Training Program and trainees must demonstrate increasing levels excellence in five categories:
Bird identification – Guides must demonstrate excellence in the identification of the birds of the region.
Professional skill development and volunteer service – Guides must participate in opportunities to improve their bird guiding skills.
Bird guiding experience – Guides must demonstrate practical experience leading bird trips.
Natural and cultural history interpretation- Guides must demonstrate their knowledge and skills in interpretation.
Bilingual Ability – Guides must demonstrate their bilingual capability.
The guides highlighted on this website, working closely with Site Coordinators from Pronatura Noroeste, have reached at least Level 4 (of 5) in all of these skills and have proven themselves to be capable, responsible, and trustworthy leaders.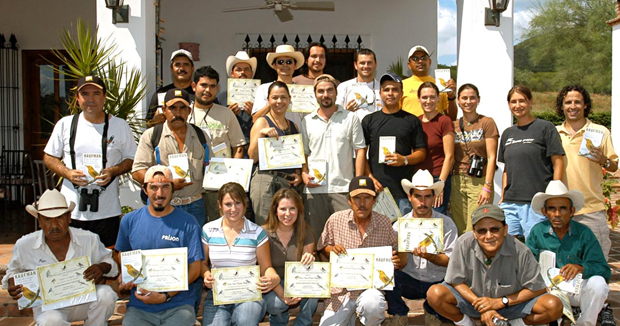 The Mexico Birding Trail is the next phase in this effort: bringing birders to the project sites and connecting them with local bird guides. In the first few years of this program, we have focused on three locations in northwest Mexico: the Colorado River delta (Sonora and Baja California), Álamos (Sonora), and Estero San José del Cabo (Baja California Sur). Each of these locations is of the utmost importance to migratory and resident birds. Each also faces diverse and grave threats and are struggling find ways to balance the needs of the environment with the needs of people.
The SJV Bird Guide Program
You are free to reproduce, use, and adapt these materials, as long as you give appropriate to the Sonoran Joint Venture. And please let us know how you are using things, and what improvements we can make for future editions! Access These Resources »